YOGA IN TIMES SQUARE
June 21, Equinox – Once a year Summer is greeted in New York City by thousands of Yoginis on Yoga mats right in the middle of Times Square! Between 44th & 45th Streets & Broadway. Yoga classes go on all day in one-hour shifts. This was the second time for me and my student, Ed. After this, we went to EATALY, a dining and food shopping experience at 23rd Street and Fifth Avenue, not to be missed!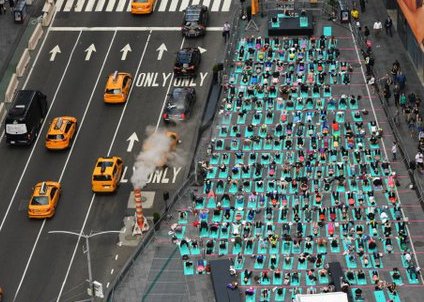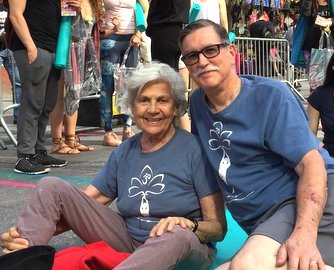 SUMMER FUN AT THE AQUARIUM! -- "Thar She Blows!"
June, Riverhead - Yoga student, Barbara S and I spent a day at the Long Island Aquarium and marveled at the underwater world! We were given a "backstage" tour by Joe Gagliano, husband of my Yoga student, Lorene.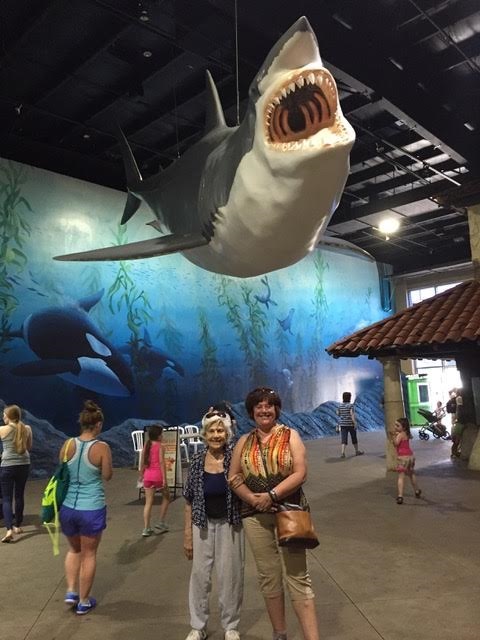 YOGA CIRCLE AT NEIGHBORHOOD HOUSE SETAUKET
June 10, East Setauket - (l/r) Alexia, Grace, Lorene, Julia at our annual National Organization for Women (NOW) Mid-Suffolk Chapter fundraiser, which successfully raised funds to send our chapter Intern, Sara, to Orlando, Fla to represent our chapter as Youth Delegate.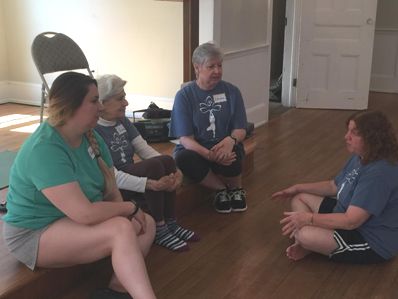 YOGA IN ISLANDIA SCHEDULE OF CLASSES
SUMMER SCHEDULE CHANGE -- JULY AND AUGUST ONLY:

Mondays -- 9:30 AM to 11:00 AM
SEPTEMBER REVERTS BACK TO MONDAYS 6:00 PM TO 7:30 PM
Tuesdays -- 6:00 PM to 7:30 PM
Wednesdays -- 7:30 AM to 9:00 AM
Your first class is FREE
FULL MOON MEDITATION -- 6:00 TO 8:00 PM
Sunday, July 9 -- Sunday, August 6 -- Saturday, September 9
Mark your calendar & join us for group meditation, Patanjali's Sutras, wholesome snacks & talk.

I wish you good health, good times, and good friends!
Sincerely,
Grace -- Durga

[back to GraceWelch.com]